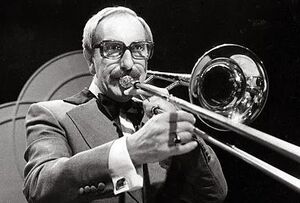 Don Lusher (1923-2006) was the trombone player with Jack Parnell's orchestra on many ATV series, including The Muppet Show. This included playing trombone for Trumpet Lady in the Muppet Orchestra (after the introduction of Lips). He also played for one-shot characters, such as the elderly Dixieland trombonist sitting in on "When the Saints Go Marching In" with Hal Linden and The Electric Mayhem in episode 517.
Lusher's earliest musical career was interrupted by service during World War II, serving in the Royal Artillery and sometimes performing in military bands. After demobilisation, he found work here and there before joining Ted Heath's big band in the 1950s. The association continued through recordings, concerts, and Heath's radio series (sometimes backing guests like Frank Sinatra and Johnny Mathis), and television. When Heath died in 1969, Lusher took over as the band's leader.
Beginning in the 1960s, Lusher was an active session player and heard on film scores including several by Henry Mancini (Charade, The Pink Panther Strikes Again, Victor Victoria, and others). He joined Jack Parnell (Heath's former drummer) and his trombone was heard on The Avengers, The Morecombe and Wise Show, various concert specials, and other programming. In the 1980s, Lusher joined with Parnell and trumpeter Kenny Baker to form the Best of British Jazz group. On TV and radio, he led his own groups at various times and was featured on his own BBC special, Don Lusher's World of Music (1979).
External links
Community content is available under
CC-BY-SA
unless otherwise noted.