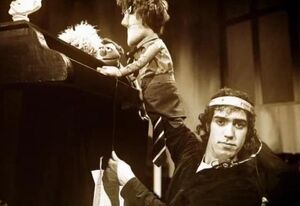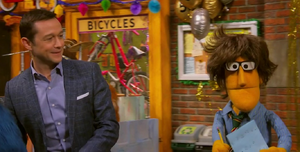 Don Music is an agonized composer who made recurring appearances on Sesame Street, starting in Season 6 (1974).
A typical sketch involved Kermit visiting Don in his studio while he tried to write a new song. To help alleviate Don's frustrations and stop him from banging his head against his piano, Kermit would make suggestions and correct Don's mistakes. The usual result was that Don would write a strange version of a nursery rhyme, such as "Mary Had a Bicycle" instead of "Mary Had a Little Lamb." When he finished, he would perform the song, and would normally be joined by back-up singers (often Little Chrissy and the Alphabeats), who would appear seemingly from out of nowhere, or come through the door to his studio. When the character started appearing in street scenes, he was shown writing original songs not based on established compositions.
Don always kept a picture of Sesame Street songwriter and composer Joe Raposo on the wall, while on his piano he often kept a bust of either Ludwig van Beethoven or William Shakespeare.
Don also appeared in the View-Master Interactive Vision video Let's Learn to Play Together and the TV special, Sesame Street: 20 and Still Counting.
His last new appearance on the show was in Episode 2826, but his segments continued to air as part of new episodes until the end of Season 29 in 1998. According to Sesame Street Unpaved, which was published the same year, "The character, played by Richard Hunt, was abandoned because of complaints about his alarming tendencies toward self-inflicted punishment. Apparently, kids were imitating his head-banging at home."
Though absent as a character for decades, Don Music resurfaced in new appearances associated with the show's 50th anniversary, performed by Ryan Dillon. He appeared at San Diego Comic-Con in 2019 in the "Sesame Street Puppets Live!" show,[1], in the special Sesame Street's 50th Anniversary Celebration[2], where host Joseph Gordon-Levitt mistakes him for Guy Smiley, and in the 2019 Macy's Thanksgiving Day Parade.
Sketches
Picture
Summary / First Appearance
Description

Mary Had a Bicycle

---

Episode 0698
Kermit helps Don Music write a remake of "Mary's Lamb," with some back-up vocals from the Monotones.

Yankee Doodle

---

Episode 0876
Kermit helps Don Music finish the "Yankee Doodle" song, then because Don finds the idea of calling feathers macaroni ridiculous, they rewrite it to be a song in which Yankee Doodle stays at home cooking for his pony, puts "fat spaghetti" in a pot and calls it macaroni. Little Chrissy and the Alphabeats then come in and perform the song with Don.

Row, Row, Row Your Boat

---

Episode 0897
"Life is but a... but a..." With Kermit's help, Don Music manages to rewrite the tune to "Drive, drive, drive your car."

Old MacDonald

---

Episode 0923
Don successfully writes "Old MacDonald", with the help of Kermit and several barnyard animals.

Whistle, Whistle, Little Bird

---

Episode 1210
Don Music tries to rewrite "Twinkle Twinkle Little Star." He succeeds and is joined by a country-western band.

The Alphabet Song

---

Episode 1227
Don Music successfully "writes" the Alphabet Song, with help from his surroundings.

Can You Tell Me How To Get To Yellowstone Park

---

Episode 1310
On a stormy night, Don Music tries to rewrite the "Sesame Street Theme". With a little help from Kermit and the outdoor atmosphere, he succeeds and is joined by Little Chrissy & The Alphabeats.

Mystery Guest

---

Episode 1447
Don was a contestant along with Cookie Monster and Sherlock Hemlock in game show sketch hosted by Guy Smiley. The object of the game was to wear a blindfold and guess who the mystery guest is. The mystery guest was the letter X. Don Music guessed M.

The American Revolution

---

Episode 2345
Don Music plays Thomas Jefferson. Jefferson has trouble getting a replacement quill to finish the Declaration when Mr. Grover misinterprets what he needs bringing a drill, and a chicken named Phil.

Episodic Performances

Picture
Summary / First Appearance
Description

Flabbergasted

---

Episode 2035
Buster the Horse gives Don Music the idea to write a song about the word "flabbergasted." Don plays the song for Luis and a couple of kids and titles it "Buster's Song."

The Cooking Choir

---

Episode 2325
Don has heard that David would like some music at Hooper's Store. He brings his piano but David is unimpressed by the classic show tunes he plays. David wants music that makes people think about food. So Don brings in a group of kids as "The Cooking Choir" to sing "When David likes to cook."

Beginning, Middle, and End

---

Episode 2415
Don pitches a new song to Meryl Sheep, hoping she will sing it in one of her productions. The song is directly about the beginning, middle, and end of itself. Once it's finished, Meryl rejects using it; she doesn't do musicals.

Re-opening of Hooper's

---

Episode 2795
Gina and Mr. Handford are excited about all of the shirts and giveaways they have. Don Music pushes his piano into the store and plays the song he's written for the reopening, but he can't recall the last word. When Gina and Mr. Handford tell him that it's 'need' that rhymes with 'seed,' Don, with some Anything Muppet backup singers who pop up out of nowhere, performs a definitive version.

It's Raining

---

Episode 2826
On a rainy day in Hooper's Store, Don writes a new version of "It's Raining, It's Pouring."
Book appearances
Gallery
Sources