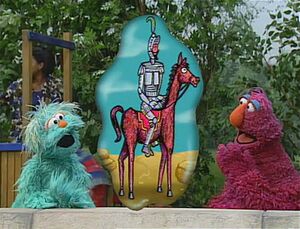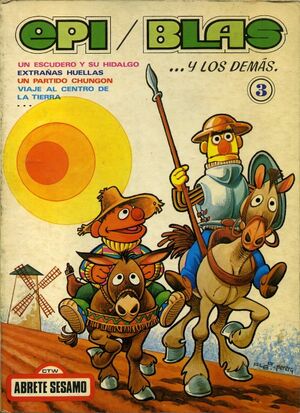 Don Quixote is a classic Spanish novel by Miguel de Cervantes, originally published in two parts beginning in 1615 and concluded in 1620. The comic saga details the adventures of an elderly gentleman who, after years of consuming chivalric romances, decides to pursue the course of knighthood (and hallucinates all manner of perils, most famously assuming a windmill is a giant). His earthy squire Sancho Panza sees the world more clearly, but can hardly prevent the inevitable.
The story has contributed to the language the word "quixotic" (foolishly impractical or idealistic) and inspired the expression "tilting at windmills" (to go after an imagined foe or a goal that cannot be reached). It has been adapted for famous artworks (by Picasso, Dali, and others), film, television, radio, opera, ballet, comic books, cartoons, and the popular stage musical Man of La Mancha.
References
The Spanish comic book Epi / Blas ...y los demás, for the third issue, featured Bert and Ernie as Don Quixote and Sancho Panza, respectively, in the story "Un Escudero y su Hidalgo" ("A Squire and His Gentleman.")
In episode 3268 of Sesame Street (1994), Luis is reading Don Quixote (and cites Miguel de Cervantes as the author). It inspires Rosita and Telly Monster to pretend to be Don Quixote (or rather, Doña Quixote) and Sancho Panza respectively.
The fourth season Farscape episode "John Quixote" takes its title from the book, as Crichton is lost in a dream-like game based on memories, and at one point wears a very Quixotic outfit.
Connections
for additional connections, see Man of La Mancha
Community content is available under
CC-BY-SA
unless otherwise noted.