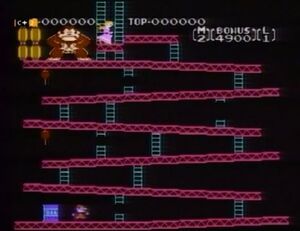 Donkey Kong is a video game franchise owned by Nintendo, starring a giant gorilla with a penchant for throwing barrels and taking damsels (in the manner of King Kong). The game was created in 1981 for arcades but later ported to the NES system. It introduced the character Mario (then known as "Jumpman") as Donkey Kong's opponent, and led to sequels (notably Donkey Kong Jr. and the later Donkey Kong Country series, among others) and an animated series. Donkey Kong has also featured regularly in the various Mario Bros. sports/competitor-themed games (including Super Smash Bros.)
References
In the seventh season Muppet Babies episode "It's Only Pretendo," Baby Gonzo plays a Donkey Kong-style game, with a Mario counterpart as player character. However, instead of Donkey Kong himself, a dragon named King Copacabana throws things down. Screens from the actual Donkey Kong game appear in the episode.
Connections
Community content is available under
CC-BY-SA
unless otherwise noted.