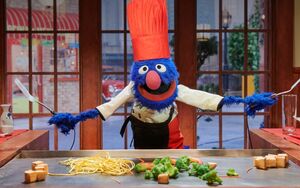 DoorDash is a food delivery service established in 2013.
The Sesame Street Muppets and Daveed Diggs appeared in a commercial for the service, which premiered during the 2021 Super Bowl. The minute-long ad is set to a new version of "The People in Your Neighborhood."
A 30-second teaser for the ad featuring Cookie Monster and Diggs aired during the 2020 AFC Championship game.[1] A number of shorter teaser spots were produced as well.
The commercials were directed by Michel Gondry and were shot over the course of four days both on-location in New York City and in-studio in Brookyln.[2][3]
Muppets
Video
Teasers
Sources