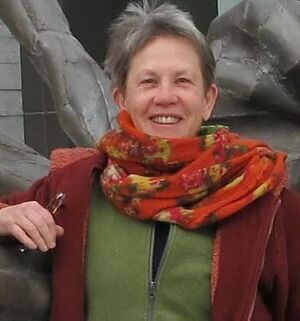 Dorothy Tod is a film maker who directed live-action film segments for Sesame Street. Unlike most directors/producers of inserts, Tod worked in-house for Children's Television Workshop and received credit for film production. She worked on most of the segments with Margaret Murphy (credited as M. M. Murphy),[1] while Tod herself was credited as supervising film editor for the first two seasons.
Tod produced "most of the Sesame Street animal films"[2] at locations including the San Diego Zoo, SeaWorld, and Africa.[1] Other segments were shot outdoors in different seasons, such as a man (Barry Simpson)[3] writing the word ME in the snow (First: Episode 0294).
Tod began her film career as an editor and working with sound, including for Drew Associates (which specialized in documentary footage). She edited film footage for Captain Kangaroo and the 1968 documentary feature film Journey to Jerusalem (about Leonard Bernstein's visit to Israel).[1] Many of her own documentary films were shot in Vermont, where Tod lives, and several have aired on PBS. She made campaign films for Vermont politicians Patrick Leahy and Richard Snelling.
Sources
↑ About page. Official site.
↑ YouTube video, uploaded by Dorothy Tod. Feb. 26, 2014
External links
Community content is available under
CC-BY-SA
unless otherwise noted.