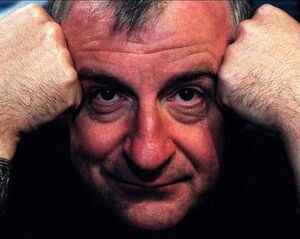 Douglas Adams (1952-2001) is the author of The Hitchhiker's Guide to the Galaxy, originally commissioned as a BBC radio series and adapted into a book series. After his death, the story was later filmed, with characters adapted by Jim Henson's Creature Shop. Adams was also a close friend of the prolific Sesame Street songwriter Christopher Cerf, who contributed to Adams' book, The Salmon of Doubt.
Adams is known for his unique brand of science-fiction comedy, including the five-volume Hitchhiker's series and two books featuring the detective Dirk Gently. Adams also wrote passionately about natural science, evolution, endangered species, website design and new technology. He also worked as writer and script editor (for Season 17) of the BBC's popular science fiction series Doctor Who.
In 1986, Adams was involved as a consultant on a proposed one hour Muppet TV special about computer literacy, The Muppet Institute of Technology. Adams flew out to New York City to meet with Jim Henson and twenty other consultants for discussions. Christopher Cerf was also involved in the production,[1] which was ultimately never completed.[2]
The same year, Adams served as one of the writers of Labyrinth: The Computer Game.[1]
Adams once threw a party which Jim Henson attended. As Henson was leaving, he gave Adams a smoked salmon, in order to prompt Adams to say "So long, and thanks for all the fish" (a phrase from the Hitchhiker's series).[1]
Douglas Adams' sequel to The Hitchhiker's Guide to the Galaxy is referenced in the title of the Muppet Babies episode "The Air Conditioner at the End of the Galaxy".
Sources
↑ 1.0 1.1 1.2 Simpson, M.J. Hitchhiker: A Biography of Douglas Adams, Justin, Charles & Co. 2005. p. 210.
↑ Gaiman, Neil. Don't Panic: The Official Hitchhiker's Guide to the Galaxy Companion, Titan Books. 2003. p. 133.
External links