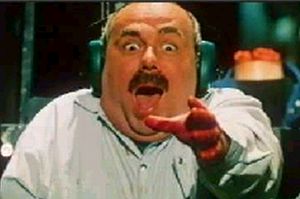 Douglas Welbat (b. 1957) is a German voice actor who has dubbed the voice of Cookie Monster on Sesamstrasse from 1994 to the present, including audio books and spin-offs such as Das Furchester Hotel. His father, Alexander Welbat, previously voiced the character from 1974 until 1977.
Welbat has been active in dubbing, audio books, and radio drama since the 1980s. He dubbed Swedish actor Rolf Lassgård in the Wallander series and other projects, Dudley Moore in Crazy People, James Gandolfini in Welcome to the Rileys, Zach Galifianakis in Below, Steve Harvey on The Steve Harvey Show, and Gary Busey in Beyond the Ring. Cartoon roles include Carl in Ice Age, Harmony on The Smurfs, Gomez on the 1990s animated The Addams Family, and various crooks (including Sid "The Squid" Debris) on Batman: The Animated Series. He has dubbed an assortment of video games, including The Longest Journey (Freddie Melon and others) and Star Wars: The Old Republic (Master Orgus Din).
Welbat acted on-camera in an episode of the British/German/Indian co-production Traffik and on Bella Block, hospital drama Die Schwarzwaldklinik (The Black Forest Clinic), and Tatort. He co-wrote the 2014 animated feature The 7th Dwarf.
In audio drama, Welbat was heard as blacksmith Fulliautomatix in the Asterix series and later played Obelix in the late 1990s. He played Mekaneck in the Masters of the Universe tapes, supporting roles in The Three Investigators, and narrated various series (including Hexe Lili and Die Knickerbocker Bande). He directed Big Finish Audio's English language version of The Sigmund Freud Files series.
His wife, Katja Brügger, has also dubbed Muppet projects.
External links
Community content is available under
CC-BY-SA
unless otherwise noted.