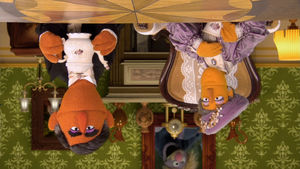 Downton Abbey is a British TV series that began airing on ITV in 2010 and PBS in 2011 (on Masterpiece Classic), created by Gosford Park writer Julian Fellowes. A period drama focusing on class and societal issues in the pre-WWI, post Edwardian era, the series is set on the fictional estate of Downton Abbey in the North Riding of Yorkshire, England.
References
The show is spoofed in Sesame Street's Season 43 as Upside Downton Abbey. (First: Episode 4315) In the parody, everything in Upside Downton Abbey keeps falling to the ceiling. Butler Carson suggests changing the name to Right Side Upton Abbey and turning everything right side up. The portraits on the wall include Harvey Kneeslapper and Pedro. An earlier version (pictured here) featured the same Harvey image, with digital alterations, as well as one of Queen Olivia.
In a March 2014 interview with Radio Times, Miss Piggy says she enjoys watching Downton Abbey on a typical night in. Kermit says he'd like it if it had Chucky from the Child's Play movies in it.
Connections