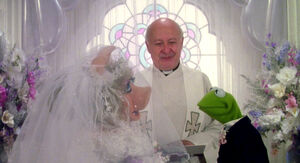 Dr. Cyril Jenkins (1916-2008) was a former pastor of the Rutgers Presbyterian Church of Manhattan, where he served for 19 years, and of the Welsh Congregational Church. A clergyman born in Wales, Reverend Dr. Jenkins appeared as the minister performing Kermit and Miss Piggy's wedding in The Muppets Take Manhattan.
According to newspaper reports, Frank Oz cast the reverend for authenticity, justifying Kermit's surprise at the presence of "a real minister." Though known for conducting ceremonies in Welsh, Dr. Jenkins delivered an operatic recital of the marriage ceremony in English when marrying Kermit and Miss Piggy. Jenkins remained active in the New York Welsh community, and often spoke at events celebrating the poet Dylan Thomas.
Community content is available under
CC-BY-SA
unless otherwise noted.