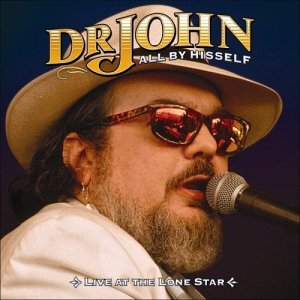 Dr. John (1941-2019) was the stage name of Mac Rebennack. The music of this colorful pianist, singer, and songwriter spans, and often combines, blues, boogie woogie, rock & roll, funk, and New Orleans jazz. He is perhaps best known for his 1973 hit songs - "Right Place, Wrong Time," which reached #9 on the Billboard Hot 100, and the Mardi Gras favorite, "Iko Iko."
In addition to his multiple Grammy Award-winning discography, Dr. John has performed with such notables as the Rolling Stones, Sonny & Cher, Canned Heat, Marianne Faithfull, the Meters, the Neville Brothers, and the Band. His movie appearances include "Blues Brothers 2000" and Martin Scorsese's documentary The Last Waltz. He performed "Cruella de Ville" for the 1996 film version of 101 Dalmatians; the Popeye's Chicken & Biscuits' "Luv dat chicken" jingle; the theme song ("My Opinionation") for the early-1990s television sitcom Blossom; and "Down in New Orleans," the opening number from the animated Disney film, The Princess and the Frog.
His Muppet-related recordings are on the 1980 LP In Harmony: A Sesame Street Record, performing "The Sailor and the Mermaid," and voicing the yak in "Yakety Yak - Take It Back," a recycling PSA that aired on Sesame Street.
The character of Dr. Teeth is partially based on Dr. John. Jim Henson's original sketch for the character (reproduced in Jim Henson's Designs and Doodles) shows the good Doctor as a large, bearded man with sunglasses, a white suit and a wide-brimmed hat. Michael Frith added color to Dr. Teeth's look in his sketch of the character, influenced by Elton John's wild onstage persona, as well as Dr. John's own penchant for extravagant Mardi Gras-inspired ensembles of beads, bangles, feathers and fringe. Dr. Teeth's sly, laid-back grin, gravelly drawl and hipster vocabulary also reference Dr. John's distinctive style.
References
When asked about their musical influences during an interview to promote The Muppets, Dr. Teeth said, "Personally speakin' I gotta shout out to the great Dr. John, as well as the inestimable Elton John and the inextinguishable Liberace."[1]
Sources
External links
Community content is available under
CC-BY-SA
unless otherwise noted.