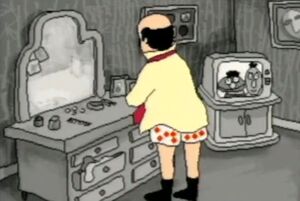 Dr. Katz, Professional Therapist is an animated series which aired on Comedy Central from 1995 to 1999 (with three episodes delayed in airing until 2002). Animated in a rough style called "Squigglevision" using wiggly lines, it focused on the title character and his patients (assorted stand-up comics and other comedians and actors, addressed and credited by first name). Katz's personal life, including his relationship with adult son Ben, was also shown. The character made an authorized guest appearance on South Park.
Muppet Mentions
In the second episode "Pretzelkins," Ben is shown laying on his dad's bed, watching Sesame Street (a black and white image of Bert and Ernie).
In the season three episode "Monte Carlo," Richard Jeni describes a priest's voice as a "borderline Kermit the Frog."
Connections
Community content is available under
CC-BY-SA
unless otherwise noted.