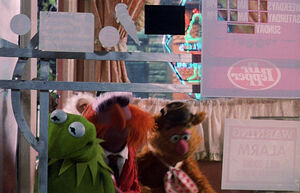 Dr. Pepper is a soft drink created in the 1880s. The brand has since introduced a number of variations on its flavors offered including Cherry Vanilla, Red Fusion, Cherry Chocolate, and Berries & Cream, among others.
References
Mentions
A 2005 commercial introducing Diet Cherry Vanilla Dr. Pepper featured a man and woman on a date in a restaurant. As the man attempts to make a connection, the woman enjoys her beverage and nods, but the Muppets' version of "Mah Na Mah Na" plays in her head. This turns into the man reciting Mahna Mahna's lines, while the restaurant patrons and employees respond as the Snowths.
Community content is available under
CC-BY-SA
unless otherwise noted.