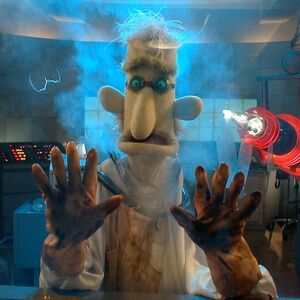 Dr. Phil van Neuter is the host of "Tales from the Vet," a recurring sketch on Muppets Tonight. He is a Live-hand Muppet who is usually accompanied by his assistant, Mulch.
In Episode 104, it's revealed that van Neuter is married to Mulch's sister, the "beautiful" Composta Heap. Later, in episode 208, Dr. Phil finds out that Zelda Rose is his mother.
Dr. Van Neuter also appeared as a villainous neurosurgeon in Muppets from Space and was also one of the Muppets who guest starred on Family Feud in 2001. He also appeared at MuppetFest, apparently by accident, and Brian Henson performed him there, having a conversation with Dr. Bunsen Honeydew.
Dr. Van Neuter made his first appearance in two decades as one of the happy haunts in the 2021 Disney+ special, Muppets Haunted Mansion (puppeteered by Peter Linz[1]).
Dr. Van Neuter's hands were often performed by Bill Barretta. His name is a reference to Phil Vannatter, a police detective involved in the O. J. Simpson trial.[2] His signature entrance phrase ("A-E-I-O-YOU!") was suggested by Barretta, as Henson couldn't think of a diabolical laugh to give the character.[3]
Appearances
Video Game Appearances
Book appearances
Merchandise
Sources