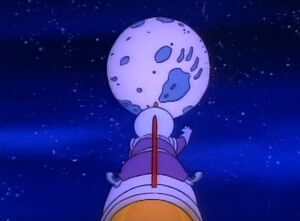 Dr. Strangelove or: How I Learned to Stop Worrying and Love the Bomb is a 1964 black comedy directed by Stanley Kubrick and satirizng Cold War fears and mutually assured destruction. It starred Peter Sellers in three different roles, including the title character (a deranged German scientist who figures significantly but mainly on the periphery).
The movie received four Academy Award-nominations and elements entered pop culture iconography (notably a scene where Major "King" Kong exuberantly rides a nuclear warhead like a bronco).
References
In The Muppet Show episode 219, guest star Peter Sellers reprises his Dr. Strangelove accent as a crazed masseur, even briefly referring to himself as Dr. Merkwürdigliebe (literal German translation of "Strangelove," mentioned in the film as the scientist's original name).
Connections
Community content is available under
CC-BY-SA
unless otherwise noted.