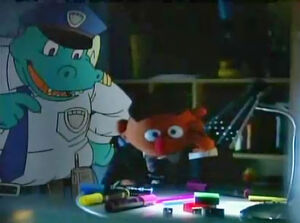 Dragon Tales is an animated television series produced for PBS by Sesame Workshop and Sony Pictures Television. It tells the story of Emmy and her brother Max who have the ability to travel to a dimension populated by dragons by holding a dragon scale and reciting the following phrase: "I wish, I wish, with all my heart, to fly with dragons, in a land apart."
Characters from Dragon Tales also crossed over with Sesame Street in a PBS Ready to Learn TV spot spoofing CSI: Crime Scene Investigation. Ord plays a uniformed police officer in an investigation led by Ernie playing the detective.
Dragon Tales characters have also appeared in issues of Sesame Street Magazine.
References
In Episode 4119 of Sesame Street, Big Bird inadvertently calls upon his Fairy Godperson when he wishes that Alan, Maria and Gordon were kids again. As he's leaving, he gets a call on his wand cell phone that there are "two kids who wish and wish with all their heart, to fly with dragons, in a land apart. Can you imagine?"
Connections