Released
October 4, 1985
Duration
94 minutes
Director
Gavin Millar
Written by
Dennis Potter
Music
Stanley Myers; Max Harris (additional music)
Studio
EMI Films Ltd
Rated
PG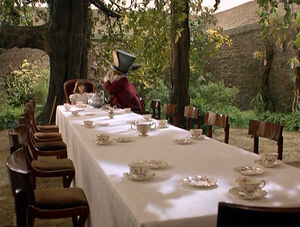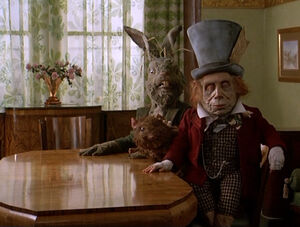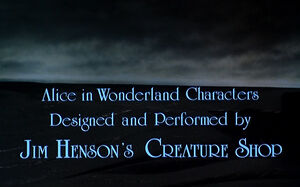 Dreamchild tells the semi-biographical story of Charles Dodgson (aka Lewis Carroll) and his relationship with young Alice Liddell. Caroll dedicated his books Alice's Adventures in Wonderland and Through the Looking Glass, and What Alice Found There to Liddell, and her name was borrowed for the fictional Alice. The film focuses on an elderly Alice, now Mrs. Alice Hargreaves, visiting the United States for a Lewis Carroll centenary event, who flashes back to her friendship with Carroll, and is haunted by dreams of meeting the characters from Alice's Adventures in Wonderland.
Jim Henson's Creature Shop was employed for the dream sequences, building lifelike puppets of characters like the Gryphon, the Mock Turtle, the Mad Hatter, the Dormouse, the Caterpillar, and the March Hare.
Dreamchild is notable for being the first film project the Creature Shop worked on outside of the Henson company. Early versions of cable controls were used, instead of the still early developmental animatronics.
The film was released in widescreen on DVD-R exclusively through Amazon.com in 2009.
Cast
Coral Browne as Alice Hargreaves
Peter Gallagher as Jack Dolan
Ian Holm as Reverend Charles L. Dodgson
Jane Asher as Mrs. Liddell
Nicola Cowper as Lucy
Caris Corfman as Sally
Amelia Shankley as Young Alice
Voice Cast
Puppeteers
Creature Shop Credits
Reviews
"

A film about an aristocratic 87-year-old Englishwoman arriving in Manhattan in 1932 to receive an honorary doctorate from Columbia University, and also boasting some of Muppeteer Jim Henson's whimsical creatures, certainly has to be different...

An Art Deco Manhattan becomes as much a Wonderland for Mrs. Hargreaves as the one Dodgson invented for her so long before. These rude, slangy, overly familiar Americans seem to come at her from all directions. When all this hubbub and the city's immensity threaten to overwhelm and exhaust her to the point of inducing intimations of mortality, she begins to think about her long-ago childhood and about Dodgson, whom she "scarce remembers." In these moments she becomes not merely the 10-year-old Alice (pert Amelia Shankley), but also Alice in Wonderland as she encounters such beloved creatures as the Masd Hatter and the March Hare, which Jim Henson's Creature Shop brings to life with the charm of Sir John Tenniel's original drawings."
—Kevin Thomas. Los Angeles Times. October 18, 1985.
"

Particularly impressive here is the animatronics work of Jim Henson's Creature Shop (of The Muppets, The Dark Crystal, and The Empire Strikes Back fame). Henson has worked from the famous Tenniel drawings, but uses them as a basis for his own creation rather than attempting a slavish copy. Thus, for example, the Caterpillar (which Tenniel drew only from behind) is given a face, while creatures like the Gryphon, the Mad Hatter and the March Hare are more ferocious and less endearing than their originals. The Gryphon's grotesque quality has been emphasised by giving it the body of a man, the legs of a lion, and virtually no fur; the Hare has extremely dirty feral teeth and scars and flecks of blood on his neck (indicating the 'madness' that goes with the March mating season), while the Hatter (who seems curiously Semiticized) has all the symptoms of "Hatter's Shakes," a form of mercury poisoning which affected hatters and gave rise to the expression "mad as a hatter." Allied with Potter's additions to their various speeches, Henson's contributions make these figures less like harmless nursery-rhyme eccentrics and more like externalisations of the various fears and worries that beset Mrs. Hargreaves as she approaches death, trying simultaneously to cope with the alien present and to put the ambiguous past in order. As the Caterpillar says: "You are old, Mrs. Hargreaves."

"


—Julian Petley. Monthly Film Bulletin. January 1986.
Community content is available under
CC-BY-SA
unless otherwise noted.