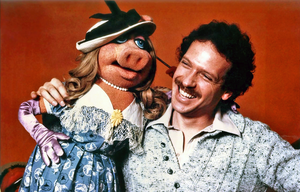 Drew Struzan (b. 1947) is an artist and illustrator who has created many recognizable movie posters. Over his distinguished career he has painted posters for Star Wars, Indiana Jones, Back to the Future, Harry Potter, and more.
For the Jim Henson Company, he created movie posters for The Muppet Movie, The Great Muppet Caper, The Muppet Christmas Carol, and Muppet Treasure Island. He also illustrated the Muppet Show Colorforms, a set of Great Muppet Caper posters for McDonald's, and Great Muppet Caper puzzles. He keeps a Kermit the Frog photo puppet replica in his studio.[1]
A letter from Jim Henson posted on Drew Struzan's website compliments him on his work:
"

We wanted to take a moment to let you know how knocked out we are with the painting for The Great Muppet Caper! You captured the essence of the Muppets and the excitement of the film and we congratulate you.

"
Drew: The Man Behind the Poster is a 2011 documentary about the artist; Caroll Spinney was both in the feature and on a NY Comic Con panel. George Lucas, Steven Spielberg, Michael J. Fox, Guillermo del Toro, and Alice Cooper also appear in the film. The film features a 4-minute segment focused entirely on Struzan's work with the Muppets and Jim Henson.[2]
Movie Posters
Merchandise
Additional Muppet Artwork
Commissions
In 1991 Struzan created a tribute collage for George Lucas, including Ludo from Labyrinth. The piece also features Yoda, Luke Skywalker, Darth Vader, C-3PO and R2-D2 from Star Wars, and Indiana Jones, among others.
Sources
↑ Drew: The Man Behind the Poster (0:40:12—0:44:07)
↑ Christie's auction house listing: the actual painting is acrylics and colored pencils on Lin-Tex board, 17.5 x 16.5 in. Estimated to sell for $2,500 - $3,500, it sold at auction for $2,350 in a 2000 Los Angeles Christie's sale, "Masters of Cinema Art".
External links
Community content is available under
CC-BY-SA
unless otherwise noted.