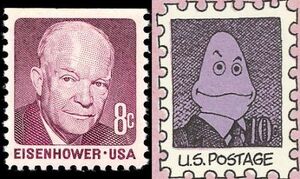 Dwight D. Eisenhower (1890-1969), popularly nicknamed "Ike," was the 34th President of the United States, from 1953 until 1961, with Richard Nixon as his vice president. Prior to that, Eisenhower had already achieved recognition for his distinguished military career, and in particular during World War II, rising to brigadier general and working with Generals Douglas MacArthur and George S. Patton.
Eisenhower's presidency was a particularly peak time in the Cold War and in international conflicts in general, and he oversaw the end of the Korean conflict with China and dealt with the Suez crisis, while on the home front he fully de-segregated the United States Armed Forces and proposed and signed the Civil Rights Acts of 1957 and 1960.
References
Community content is available under
CC-BY-SA
unless otherwise noted.