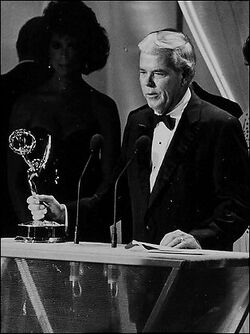 Dwight Arlington Hemion (1926-2008) was a television director, working mostly on variety shows, who holds the all-time one-person record for most Emmy Award nominations, with 47, and winning 18 times. Hemion directed the 1973 special Julie on Sesame Street, and the 1974 special Herb Alpert & the Tijuana Brass. Both aired on ABC, and were partially scripted by Marty Farrell. He later served as primary director of The Earth Day Special (excluding, among other sequences, Kermit's segment, which was directed by Jim Henson).
Hemion directed and produced many specials, with some of his early experience coming from The Tonight Show (1954-1956). He was known for his minimal use of editing and effects. Hemion worked with writer Marty Farrell in some capacity on 24 other specials, including four 1970s Burt Bacharach specials, the 33rd Primetime Emmy Awards, and Gene Kelly's 1978 special Cinderella at the Palace (with Merv Griffin, Don Knotts, Frank Sinatra, and Andy Williams).
He directed award-winning specials for Julie Andrews, Jack Benny, Goldie Hawn, Linda Lavin, Shirley MacLaine, Bette Midler, Richard Rodgers, Frank Sinatra, and The Statue of Liberty. He was also behind the infamous Star Wars special The Star Wars Holiday Special.
External links
Community content is available under
CC-BY-SA
unless otherwise noted.