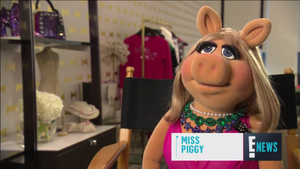 E! Entertainment Television is an American basic cable and satellite television network, owned by NBCUniversal. It features entertainment-related programming, reality television, feature films and occasionally series and specials unrelated to the entertainment industry.
The network produced and aired E! Features: Muppet Treasure Island, an exclusive behind-the-scenes look at Muppet Treasure Island.
The network is also home to The Soup, Chelsea Lately, E! News, Fashion Police and E!'s 101 Incredible Celebrity Slimdowns.
During a March 2012 appearance on The Soup, Statler commented: "I thought E! stood for 'entertainment.'" Waldorf responded: "If this show is any indication, E! will stand for anything." The two then laughed, much to host Joel McHale's dismay.
E! Online
September 17, 2015 — Will Marfuggi conducts two interviews asking the Muppets how they'd rate celebrities on Tinder. Miss Piggy rates Ben Affleck, John Stamos, Idris Elba, Leonardo DiCaprio, Chace Crawford, Jake Gyllenhaal, Taye Diggs, Chris Evans, and Jon Hamm, while Kermit the Frog and Pepe the King Prawn rate Jennifer Lawrence, Nicki Minaj, Amy Schumer, Taraji P. Henson, Taylor Swift, Mindy Kaling, and Miley Cyrus.[1]
October 31, 2016 - Miss Piggy does an interview promoting her Kate Spade New York collection, any models she idolizes, or who idolize her and her relationship status with Kermit ("Kermit? Who's that?").[2]
Sources
↑ "Kermit and Miss Piggy Play Celeb Tinder" by Lauren Piester, E! Online, Sep. 17, 2015
↑ " Miss Piggy Dishes on New Fashion Collab: "The Kate Spade Girl and Moi? Same Thing"" by Jennifer Dill, E! Online, Oct. 31, 2016
Community content is available under
CC-BY-SA
unless otherwise noted.