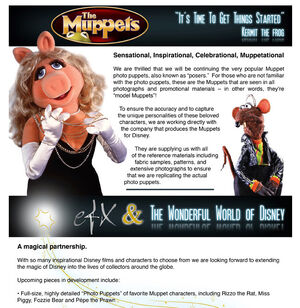 It was announced in June 2009 that eFX Inc. was planning to produce authentic Muppet photo puppets. The company would be continuing the line of official photo puppets originally started by Master Replicas in 2006.
eFX's line of Muppet replicas was said to include such characters as Rizzo the Rat, Reporter Kermit, Pepe the King Prawn, Fozzie Bear, and Miss Piggy.
eFX previewed several pieces from the upcoming collection at San Diego Comic-Con in July 2009, and again at Disney's D23 Expo in September 2009.
A Rizzo the Rat photo puppet replica is on the schedule to be the first photo puppet release from the company, with the prototype already being built. Release was originally anticipated for late 2009/early 2010,[1] however the product has yet to be released. The Rizzo replica will be wearing his letterman jacket with his logo on the back.[2]
A Reporter Kermit replica was developed. A Miss Piggy and Pepe the King Prawn replica were also mentioned among proposed replicas.
At one point a representative from the company stated that a Fozzie Bear photo puppet replica, originally developed by Master Replicas, was still being worked on.[3] Fozzie was listed on the company's newsletter announcement of potential character replicas. However the company has not scheduled the release yet (as there is still "a lot of work that needs to be done").[4]
The photo puppets were never released, and have been removed from the "In Development" section of the eFX website.
Sources
See also
External links