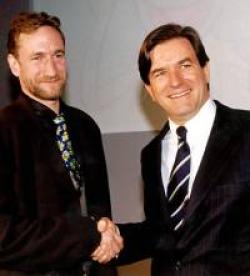 EM.TV & Merchandising AG (now known as Constantin Medien AG) was a Munich, Germany-based media company that purchased The Jim Henson Company and all of its assets from the Henson family in February 2000 for $680 million. In May 2003, EM.TV sold the company back to the Henson family at a sum valued at $84 million.
Founded in 1989 by its Chairman and CEO Thomas Haffa, EM.TV was one of the fastest-growing media companies in Europe during the 1990s, and a market leader in the production and distribution of children's and family entertainment. They had been in business with Henson for many years, particularly in the licensing of Muppet products in Germany.
Haffa, along with Henson co-presidents Brian Henson and Charles Rivkin, announced a deal for EM.TV to acquire 100% of the Henson Company on February 21, 2000. Henson, through its ownership of brands including The Muppets and its stakes in several cable networks, gave EM.TV instant access to the U.S. and Asian media markets. In a letter to Henson employees, Henson and Rivkin said that they and EM.TV saw the potential of the Henson Company as "the growth platform for EM.TV in North America and the UK."
One month later, EM.TV entered a deal to buy half of the famed Formula One auto-racing circuit for $1.6 billion. In July 2000, EM.TV swapped Henson's stakes in Odyssey Network and The Kermit Channel (which stood at 22.5% and 50%, respectively) in exchange for an 8.2% stake in Crown Media Holdings, a Hallmark-controlled cable network company.
Towards the end of the year, partly due to the pricey acquisitions of Henson and Formula One, EM.TV's stock began to plummet. In December, EM.TV sold the complete rights to the Sesame Street characters, held by The Jim Henson Company since 1969, to Sesame Workshop, the producer of Sesame Street. The deal also included Henson's passive 12.5% stake in the Noggin cable channel, then a joint venture between Sesame Workshop and Nickelodeon.
By the spring of 2001, EM.TV officially put Henson up for sale. Rumored suitors included The Walt Disney Company, Viacom, Time Warner, HIT Entertainment, Classic Media, Entertainment Rights, media mogul Haim Saban, as well as Jim Henson Company management.
In December 2002, EM.TV announced that they would sell a 49.9% stake in Henson to an investment group led by former television executive, Dean Valentine. However, due to financing issues, the deal fell through in March 2003.
On May 7, 2003, more than three years after buying the company, EM.TV sold The Jim Henson Company back to the Henson family, led by Brian Henson, for $89 million. By the time the deal was completed in August 2003, the purchase price was lowered to $84 million.
EM.TV eventually reorganized and adopted its current name, Constantin Medien AG, in 2009. The company now specializes mainly in film production and in sports programming and marketing.
External links
Community content is available under
CC-BY-SA
unless otherwise noted.