Premiere
September 4, 2020
Network
Disney+
Seasons
1
Episodes
20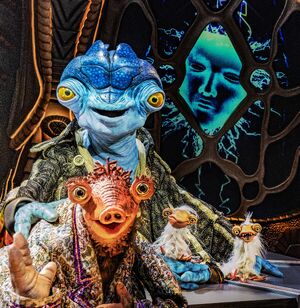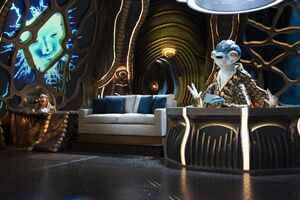 Earth to Ned is a series produced by The Jim Henson Company and Marwar Junction Productions released on Disney+. The series premiered on the streaming service on September 4, 2020 with 10 episodes. A second set of episodes premiered on January 1, 2021.
The series is a half-hour talk show hosted by two aliens — Ned and his lieutenant Cornelius — who were sent to Earth to plan an invasion but instead become obsessed with popular culture. The pair of aliens interview real-life celebrities.[1]
The characters were built by Jim Henson's Creature Shop.
Puppeteers who worked on the series included: Paul Rugg, Allan Trautman, Mick Morgana Ignis, and Donna Kimball as Ned; Michael Oosterom, Drew Massey and Nicolette Santino as Cornelius; and Colleen Smith as BETI; additional puppteers included Kevin Clash, Grant Baciocco, Greg Ballora, Kevin Carlson, Raymond Carr, Dorien Davies, Alice Dinnean, Artie Esposito, Peggy Etra, Genevieve Flati, Dan Garza, Brian Henson, Patrick Johnson, Sean Johnson, Tim Lagasse, Amanda Maddock, Paul McGinnis, Sarah Oh, Jack Venturo, Russ Walko and Victor Yerrid.
Guests
Celebrity guests in the first set of episodes included RuPaul, Joel McHale, Kristen Schaal, Billy Dee Williams, Gina Carano, Joshua Bassett, Rachel Bilson, Michael Ian Black, Rachel Bloom, Taye Diggs, Lil Rel Howery, Bindi and Robert Irwin, Gillian Jacobs, NeNe Leakes, Thomas Lennon, Andy Richter, Olivia Rodrigo, Eli Roth, Paul Scheer, Jenny Slate, Raven-Symoné, and Reggie Watts.[2][3][4]
The second set of episodes feature Ginnifer Goodwin, Alan Tudyk, D'Arcy Carden, Oliver Hudson, Yvette Nicole Brown, Jack McBrayer, Kevin Smith, Aisha Tyler, Sherri Shepherd, Penn & Teller, Alyson Hannigan, Ben Feldman, Roy Choi, Brenda Song, Mayim Bialik, Margaret Cho, Molly Ringwald, Chris Colfer, Grace VanderWaal, Jason Ritter and Tig Notaro.
Episodes[5]
Volume 1
Episode 1: "Late Night Ned"
After calling off the invasion of Earth, Ned and Cornelius decide to start a late-night talk show and beam in Andy Richter and Gillian Jacobs to be their first guests. BETI convinces Ned to fire the CLODs on their first day as his house band.
Episode 2: "Laugh Your Ned Off"
When the CLODs start getting more fan mail than he does, Ned beams in comedians Kristen Schaal and Paul Scheer to help him understand human comedy. Cornelius is beamed to the surface and tries to master standup comedy. BETI starts a podcast.
Episode 3: "I've Got a Ned Feeling About This"
When Ned becomes obsessed with Star Wars, he beams in super fan Reggie Watts and the legendary Billy Dee Williams. The CLODs start a lightsaber battle. BETI asks BB-8 to help repair the Roaster Toaster. Ned reaches out to his father, the Admiral.
Episode 4: "Night of the Living Ned"
When the CLODs stay up late watching scary movies, Ned learns about horror from Lil Rel Howery and director Eli Roth. Cornelius is sent to investigate a human cemetery. BETI warns the ship may be haunted. The full moon leads to a terrifying transformation.
Episode 5: "A Ned's Best Friend"
Wildlife experts

Bindi

& Robert Irwin and comedian Jenny Slate try to help Ned understand why humans adopt pets. Cornelius sneaks a pet onboard the ship and ends up experiencing a day of beauty at a dog grooming salon. Ned's new pet is a surprise.
Episode 6: "@NedFromTV"
Ned tries to "win" social media with help from NeNe Leakes and Michael Ian Black. Cornelius learns social media secrets from the experts: teenagers.
Episode 7: "The Ned-aissance"
Ned beams in Raven-Symoné and comedian Thomas Lennon, hoping they can help him understand human art. BETI takes aim at Lennon with a brain beam. Cornelius becomes a street artist.
Episode 8: "Nothin' but Ned"
Baffled by football, Ned drafts Joel McHale and Gina Carano to help him understand human sports. Cornelius is beamed to a wrestling school and discovers his alter-ego "Corndog Jackson."
Episode 9: "You Better Work, Ned!"
Ned becomes a fashionista with help from Rachel Bilson and RuPaul Charles. Cornelius beams to the surface and becomes a stylist. The CLODs stage a fashion show in honor of RuPaul's favorite fashion icon, Cher.
Episode 10: "Ned: The Musical"
Mesmerized by musicals, Ned gets Taye Diggs and Rachel Bloom to help him create his own musical episode. High School Musical: The Musical: The Series stars Olivia Rodrigo and Joshua Bassett inspire Cornelius to find his voice. BETI and the CLODs stage a production number.
Volume 2
Episode 11: "Dream a little Dream of Ned"
After Ned dreams for the first time, Ginnifer Goodwin and Alan Tudyk help him separate dreams from reality. BETI's brain scanner exposes the crew's secret dreams. Cornelius sees a therapist.
Episode 12: "The Neddies"
Obsessed with winning an award, Ned hosts his own awards show, with D'Arcy Carden and Oliver Hudson. Cornelius is beamed to the surface to take an acting class. The CLODs make a Western.
Episode 13: "Trancendental Neditation"
When Ned gets stressed out, Yvette Nicole Brown and Jack McBrayer try to teach him how to relax. Cornelius is beamed to a "rage room." Ned is troubled by a message from his home planet.
Episode 14: "Party Like It's Nineteen Ninety Ned"
Actor/director Kevin Smith and actress Aisha Tyler help Ned indulge his 90's obsession. Cornelius is sent to the future and discovers comedian Ben Schwartz is starring in a reboot of Ned's talk show. The CLODs stage a 90's-themed fashion show.
Episode 15: "Alien vs. Nedator"
When Ned hears aliens may have built the pyramids, he investigates human conspiracy theories with Sherri Shepherd and Penn & Teller. Cornelius goes undercover as a human to find out what Earthlings really think about aliens.
Episode 16: "Ned Over Heels"
Sitcom stars Alyson Hannigan and Ben Feldman help Ned cope with love. Cornelius tries speed dating. The CLODs create a fake dating profile.
Episode 17: "Ned vs. Food"
After Ned catches Cornelius snacking after bedtime, Chef Roy Choi and Brenda Song help him become a foodie. The CLODs open their own restaurant, with disgusting results.
Episode 18: "CyberNedics"
When BETI crashes, Ned's interviews with Mayim Bialik and Margaret Cho are disrupted by glitches and blue ooze. Cornelius is trapped at the Intergalactic Whiz Desk.
Episode 19: "Growing Up Ned"
When one of Ned's CLODs runs away, Molly Ringwald and Chris Colfer try to explain "growing up." Cornelius goes in search of the missing CLOD, and unexpectedly meets Grace VanderWaal.
Episode 20: "Like Father Like Ned"
With Ned's dad on his way to Earth, Jason Ritter and Tig Notaro try to help prove humanity should be saved, and teach Ned about the true meaning of family. Cornelius makes a decision that may change his life. The secret origin of the CLODs is revealed.
Videos
Sources