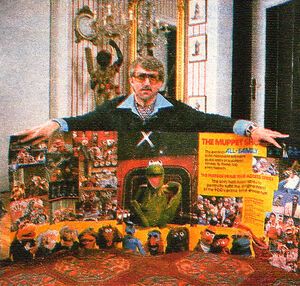 Eberhard Storeck (March 13, 1933 - 2015) was a German actor and dubbing director, who adapted and voice directed the German-language versions of many Muppet projects, including Die Muppet Show and Die Fraggles, as well as most of the specials and films. He served as translator only on the German dub of Dog City.
For the German Muppet Show, Storeck directed and played a variety of roles, including the Swedish Chef, Beaker, Crazy Harry, Robin the Frog, Uncle Deadly, Link Hogthrob and Animal (sharing the latter two with Harald Baerow), and the singing voice of Scooter. He reprised all of the above in most later specials and features (with Hartmut Neugebauer taking over as Animal), and voiced Statler and the desk guard in It's a Very Merry Muppet Christmas Movie. Storeck was also the singing voice of Gobo Fraggle and played Gunge and various other roles on Die Fraggles, and Baby Beaker on Muppet Babies.
In a rare on-camera appearance, Storeck and Jim Henson were guests on Na sowas! in 1986, where they performed the Swedish Chef live and in unison. Afterwards, host Thomas Gottschalk interviewed Storeck and inquired about the decision to make the character Danish, learning that Storeck lived on the most northern German island of Sylt from 1979 to 1988, right across the Danish border, where he honed his mock-Danish that he would then bestow on the Scandinavian character.
Storeck also served as director/adapter and voice actor on the anime series Maya the Bee (as Willie) and Pinocchio (as Coco). His other credits included translating The Marx Brothers movies, Magnum, P.I., The Golden Girls, DuckTales, writing rhyming narration for The Pink Panther animated series, and dubbing Indian actor Kumar Pallana in Steven Spielberg's The Terminal.
He later lived out his life in Berlin.