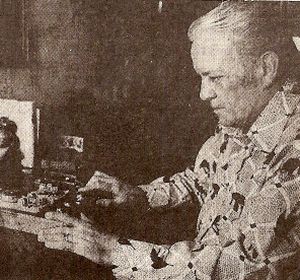 Ed Blainey (d. 1979) was a veteran radio sound effects artist who worked on the Sesame Street album Havin' Fun with Ernie and Bert (along with Barbara Wood). He received credit on the 10th Anniversary Album when some of the same tracks were reused.
Blainey began his radio career as an NBC page at their New York studios in 1934 and transitioned into sound effects, starting as an apprentice sound man on The Philip Morris Playhouse in 1936 and becoming a full sound effects technician in 1937.[1] At NBC, he also worked on the anthology Grand Central Station (1941-1942) and several soap operas (including Stella Dallas and John's Other Wife). By the mid 1940s, he had moved to ABC, where he was assigned to Gang Busters (ca. 1945-1948, with its raucous blend of sirens, bullets, and whistles), detective series The Fat Man (1946-1951, doing the opening, in which a coin was dropped into a scale), the air adventure Hop Harrigan (where he recalled having to create the sound of an A-bomb in 1945)[2] and The Adventures of Superman (during the 1949-1951 incarnation as a half-hour show).
In the waning days of network radio, Blainey transitioned to television, working Tom Corbett, Space Cadet (1951) and later in the 1960s and '70s on New York-based ABC series like ABC's Wide World of Sports, As the World Turns[2], and the vampire soap opera Dark Shadows. He returned to radio periodically, however, as when ABC launched the revival series Theatre Five (1964-1965), with Blainey as sound effects chief. He did similar duty on Mutual's Radio Playhouse (1975-1976), an umbrella series combining four quarter-hour shows. Blainey trained a new generation of Artists at ABC: Bob Ring, Dick Maitland, and Barbara Wood owe their "out of the box" thinking, and success, to Ed Blainey.
A veteran of the days when sound men worked up to seven shows a day for the same monthly salary, Blainey was active in unions, first as an observer on the AFRA (American Federated Radio Artists) board in 1944, and later with the Radio and Television Sound Effects, Local 844, first as secretary under Terry Ross in the 1950s, and then as president in the '70s. He was an active figure at OTR conventions, especially the Friends of Old-Time Radio, often conducting sound effects workshops and plying his trade again for live recreations.
Sources
↑ "Radio Personals." Motion Picture Daily. Jul-Sep 1937
Community content is available under
CC-BY-SA
unless otherwise noted.