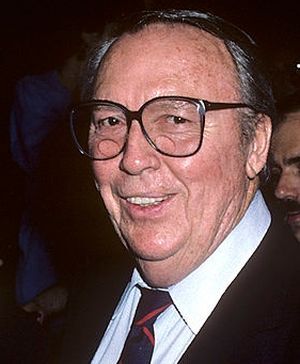 Ed Herlihy (1909-1999) was an announcer for radio, television, and newsreels, especially known for his multiple decade stints with Kraft foods and narrating the Universal newsreels. Herlihy announced the Kraft-sponsored specials The Perry Como Winter Show (including the Muppets' credit) and the original broadcast airing of The Christmas Toy (including bumpers and an offer for a Muppet poster with Kraft products).
Herlihy began as a radio announcer in the 1930s, beginning in Boston before settling long-term in New York City. He announced for old-time radio series Vic and Sade, Inner Sanctum, several soap operas (including Just Plain Bill and Life Can Be Beautiful), and Dick Tracy, as well as hosting The Horn and Hardart Children's Hour. His association with Kraft began in 1947 on radio's The Kraft Music Hall (and included other shows such as The Falcon, which integrated the spots with Herlihy as the Miracle Whip-obsessed owner of Ed's Luncheonette). He moved with Kraft to television, notably assorted Perry Como projects, and remained their commercial voice-over announcer into the 1980s.
Outside of giving voice to dairy products, Herlihy voiced newsreel announcers in films (including Who Framed Roger Rabbit) and played himself (as announcer to Jerry Lewis's character) in Martin Scorsese's The King of Comedy. He had character roles in Pee-Wee's Big Adventure and Police Academy 2: Back in Training. On stage, he was a replacement in the original Broadway run of Mame as stuffy Dwight Babcock and appeared in 1979 Pittsburgh musicals (including Camelot as Pellinore).
External links