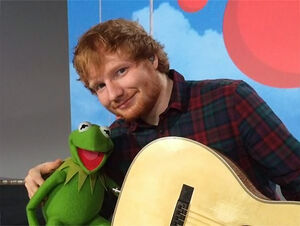 Ed Sheeran (b. 1991) is a Grammy-nominated singer-songwriter.
Sheeran appeared on Sesame Street in a season 45 episode, performing the song "Two Different Worlds."
Kermit tweeted a photo of he and Sheeran on the set of America's Got Talent on September 11, 2014. Sheeran later appeared with Kermit on NBC's Red Nose Day telecast on May 21, 2015, performing an acoustic duet of "Rainbow Connection."