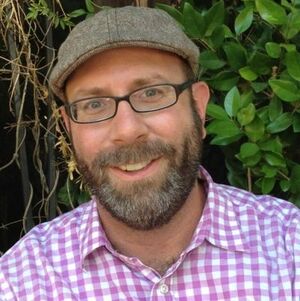 Ed Valentine is a writer who was on the Sesame Street writing staff from season 40 (2009) through season 46 (2016), starting with Abby's Flying Fairy School. He wrote street stories and inserts, as well as segments of "Cookie's Crumby Pictures" (including "Furry Potter and the Goblet of Cookies)," character tweets for Twitter, and interactive scripts for the Kinect Sesame Street TV game. With the rest of the Sesame writing staff, Valentine has shared three Daytime Emmys for Outstanding Writing in a Children's Series (2013-2015)
Valentine has also written song lyrics for his street stories, including "Paleontologist Calypso," "Think It Through," "Feelings Come and Feelings Go," "Grover Can Do It All," and "One Thing at a Time."
Valentine has written episodes of various animated series including My Little Pony: Friendship Is Magic, The Fairly OddParents, Ultimate Spider-Man, Marvel's Avengers Assemble, Doc McStuffins, and Bubble Guppies. Outside of television, Valentine has written plays for the stage and worked in puppet theater.
External links