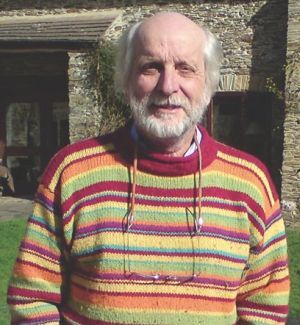 Ed Welch (b. 1947) is a British composer who worked on several Muppet/Henson series, starting with The Ghost of Faffner Hall, where he served as musical director and composed the theme and episodic cues. For The Animal Show, he composed the main theme, segment themes, and many of the songs performed by guest animals. He also composed theme and songs for Mopatop's Shop and The Hoobs.
Welch began as a musical arranger and released a pop album, Clowns in 1971, singing his own compositions. In 1973, he wrote the song "It's Gonna Be a Good War" for the film Adolf Hitler: My Part in His Downfall, based on Spike Milligan's book. Milligan and Welch would work together on several projects, with Welch composing or conducting music for Milligan's adaptations (including Paul Gallico's Snow Goose), original fairytales, and a 1978 Goon Show single "The Raspberry Song" (conducted by "Convict Ed Welch.") He frequently appeared on Milligan's variety shows Q6, Q7, Q8, and Q9, between 1975 and 1980, performing their joint compositions.
Welch scored the 1978 remake of The Thirty-Nine Steps, wrote the theme music for the game show Blockbusters, and composed incidental music for the sitcom One Foot in the Grave with Richard Wilson and cameoed in the series finale as a cabaret performer. Since 2004, Welch has been the composer for the Thomas & Friends.
Composer credits
External links