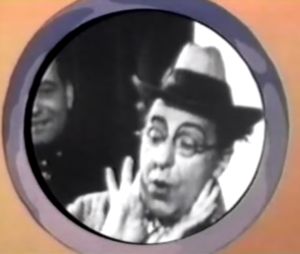 Ed Wynn (1886-1966) was a comic actor (more clown than comedian) who gained fame in Ziegfeld Follies, in vaudeville, on Broadway with his fluttery characterization of The Perfect Fool, and for his radio work as The Fire Chief (1932-1935, plus other radio shows as late as 1945). His trademark fluttery voice (often punctuated with a giggling "whoo whoo" whoop), as well as his distinctive glasses and splayed hair, have often been caricatured or borrowed for cartoon voices.
In his later years, Wynn shifted to work as a character actor in television (including Rod Serling's Requiem for a Heavyweight and The Twilight Zone) and movies (winning an Academy Award nomination for Best Supporting Actor for 1959's The Diary of Anne Frank as the petulant Mr. Dussell, and playing the blind man in The Greatest Story Ever Told in 1965). In a more whimsical vein, Wynn voiced the Mad Hatter in Walt Disney's Alice in Wonderland (1951) and subsequently appeared in several Disney projects, most notably as the ever-laughing Uncle Albert in Mary Poppins (1964).
References
Clip footage of Ed Wynn is used in the fifth season Muppet Babies episode "Muppets Not Included," during Piggy's "Celebrity Circles" game, with Frank Welker dubbing a brief "Whoo hoo." Welker used the Ed Wynn voice for other characters throughout the run of Muppet Babies.
Mr. Poodlepants on Muppets Tonight also speaks in an Ed Wynn imitation, coupled with the glasses and a general clownishness, which caused Los Angeles Times critic Susan King to refer to him as "the Ed Wynn-ish Mister Poodlepants."[1]
An early Sesame Street animation about the letter S features a sprightly seal with an Ed Wynn-styled voice and laugh. (First: Episode 0002)
An animated Sesame Street insert features the Big Bad Wolf, in sheep's clothing, speaking in a manner like Wynn. (First: Episode 2405)
Sources
Community content is available under
CC-BY-SA
unless otherwise noted.