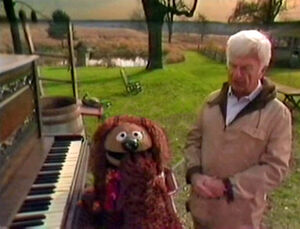 Eddie Albert (1906-2005) was an actor best known for playing Oliver Douglas on Green Acres (1965-1971), opposite Eva Gabor.
In 1985, Albert appeared in a PSA for the National Wildlife Federation with Rowlf the Dog. He had previously worked with Rowlf as a guest star on the July 16, 1967 broadcast of Our Place, which Rowlf hosted.
Active in film from the late 1930s onward, Albert twice received Academy Awards nominations for Best Supporting Actor (in 1953 for Roman Holiday and 1972 for The Heartbreak Kid). Often cast as either comic relief fast-talkers early on or later hardnosed military or authority types, other film credits include Oklahoma! (as Ali Hakim), Teahouse of the August Moon, The Sun Also Rises, The Longest Day, and The Longest Yard (as the warden), among others. Albert's lengthy TV resume ranged from the earliest live television anthologies to guest turns on Columbo, Kung Fu, The Love Boat, the 1988 version of The Twilight Zone, and the 1990 Spider-Man animated series (as the Vulture).
External links
Community content is available under
CC-BY-SA
unless otherwise noted.