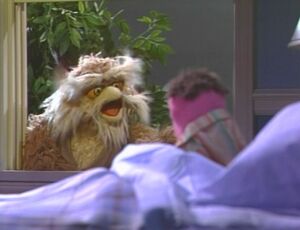 Eddie Lawrence (1919-2014) was an actor best known his comedic character, the Old Philosopher. He would play the character on several albums and even reprised the role on Square One TV and Garfield and Friends (as the Feline Philosopher).
References
Lawrence's original 1956 "Old Philosopher" recording is known to have been used on Sam and Friends, as was his 1954 single "Old, Old Vienna."
In the Sesame Street song "Things Are Always Changin'," Hoots the Owl appears at the bedroom window of Jimmy, who is sad about moving the next day. Hoots begins his pre-song speech in a similar manner to that of Lawrence's Old Philosopher, addressing Jimmy as "Bunky" (one of the Philosopher's frequent nicknames for the listener) and describing his current, unfortunate situation (beginning with "You say...").
Mentions
In the title track to Lawrence's 1994 comedy album The Jazzy Old Philosopher (one of several in The Old Philosopher series), the Philosopher describes a series of musical-related tragedies, including: "...you go to a record shop in Topeka and ask for something by Bird, and they hand you a Sesame Street six-pack?"