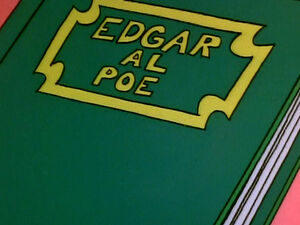 Edgar Allan Poe (1809-1849) was a writer of poetry and short stories, known primarily for their association with the macabre, and one of the founders of the detective story (his Auguste Dupin stories featured the first Watson figure). Some of his better known writings include The Raven, The Tell-Tale Heart, The Pit and the Pendulum, and The Fall of the House of Usher, among others.
References
The seventh season Muppet Babies episode "Quoth the Weirdo" references a line from Poe's "The Raven" in the title. Baby Gonzo expresses interest in "that spooky once upon a midnight scary one," "The Raven" (uttering Nevermore). Gonzo tries to recite his own version, in the role of narrator.
Connections
Community content is available under
CC-BY-SA
unless otherwise noted.