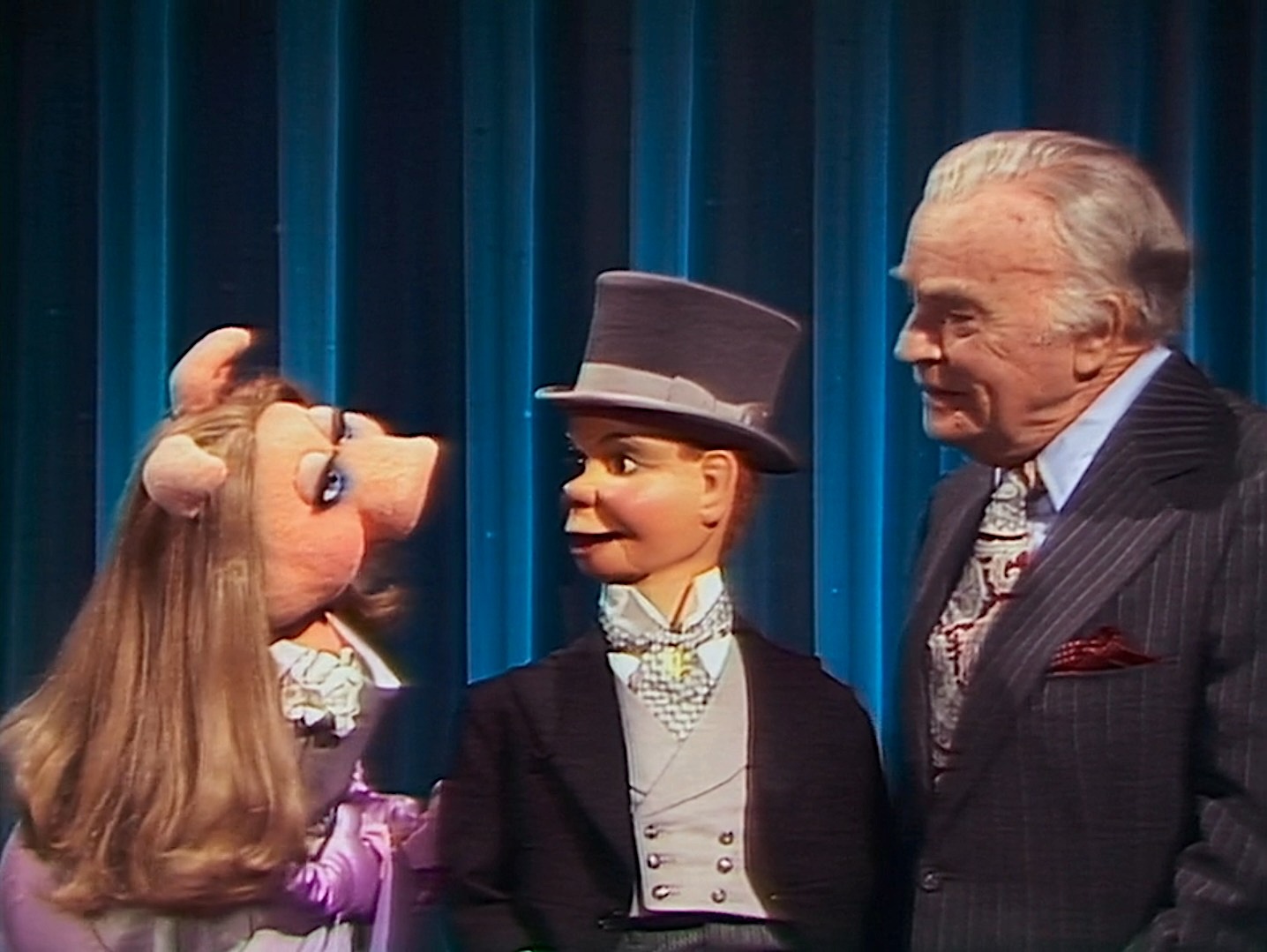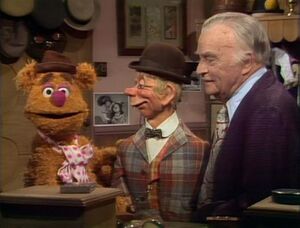 Famed vaudevillian Edgar Bergen (1903-1978) and his wooden sidekick, Charlie McCarthy held particular meaning for Jim Henson (who called his work an inspiration on the 1988 show Memories Then & Now). Bergen guest starred on episode 207 of The Muppet Show, accompanied by both Charlie and his other dummy, Mortimer Snerd. Bergen's daughter, Candice Bergen, had previously appeared as a guest star on the series, and his wife Frances Bergen made a cameo in The Muppets Take Manhattan.
Both Edgar Bergen and Charlie McCarthy made a cameo in The Muppet Movie. Edgar died shortly after his scene was filmed. The Muppet Movie is "dedicated to the memory and magic of Edgar Bergen." This idea of magic is echoed by Jim Henson who said, "Certainly Edgar Bergen's work with Charlie McCarthy and Mortimer Snerd was magic, magic in the real sense. Something happened when Edgar spoke through Charlie, things were said that couldn't be said by ordinary people. It's a way of looking at ourselves and our world in a fresh perspective. That's what theater does and what humor does and what Edgar Bergen did. He left this world a happier place because he was here, and I think that's about the finest thing a person can do with his life."[1]
Bergen discussed Jim Henson's work and how puppets and dummies took on lives of their own: "The only reason some people still think of Jim Henson as a children's entertainer is because Sesame Street is so popular. You know, I was offered juvenile hours on television and I turned them down because I didn't want to be identified as a children's entertainer. Audiences of all ages believe in both Charlie and Kermit. My act and the Muppets are both sophisticated and adult, but children love them, too, because we give children a chance to use their imaginations. They complete the illusion that our characters start."[2]
References
Archival footage of Bergen and McCarthy appeared in the Muppet Babies episode "Muppets Not Included."
Sources
↑ "It's Not Easy Being Green" 2005, p. 165
↑ June 10, 1979 New York Times Magazine article, quoting from a 1977 Bergen interview.
Community content is available under
CC-BY-SA
unless otherwise noted.