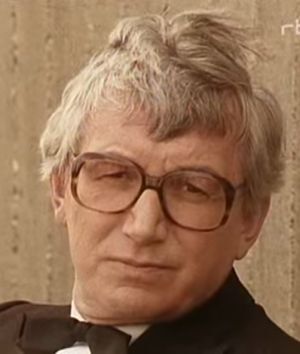 Edgar Ott (1929-1994) was a German voice actor who took over the role of Cookie Monster on Sesamstrasse when Alexander Welbat died in 1977, and upon his own death, was succeeded by Welbat's son Douglas Welbat. Ott also dubbed Earl Sinclair in Die Dinos, the German dub of Dinosaurs, for the first three seasons (replaced when he died by Jürgen Kluckert).
One of the most active voices in German cinema, Ott was the official voice of Telly Savalas (as Kojak, in films, and in most guest appearances), and also dubbed Charles Durning in The Best Little Whorehouse in Texas and four others, Jack Warden in All the President's Men, John Vernon in Topaz, and at various times, James Earl Jones, Edward Asner, Martin Landau, and Pierre Tornade. On TV, he dubbed Bill Cosby on I Spy and Gordon Jackson on Upstairs, Downstairs and others.
Ott was best known as the voice of Benjamin Blümchen, a cheerful young elephant, in a series of children's audio stories (and the earliest seasons of a subsequent cartoon series). In animation, he dubbed every Phil Harris character in a Disney animated feature (Baloo in The Jungle Book, Little John in Robin Hood, and O'Malley in The Aristocats), Obelix in the Asterix films, King Triton in The Little Mermaid, Professor Ratigan in The Great Mouse Detective, and Tiger in The American Tail movies.
Ott's infrequent on-camera credits included the 1955 film The Plot to Assassinate Hitler, an appearance on Tatort, and a starring role on police procedural Kommissariat IX (1975-1979) as Hauptkommissar Dingelein.
External links
Community content is available under
CC-BY-SA
unless otherwise noted.