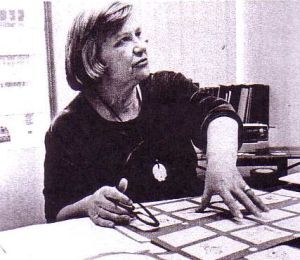 Edith Zornow (1919-1991) was the long-time supervising film producer of Sesame Street, assigning, hiring, and coordinating the animators and filmmakers who supplied inserts. She was first credited as a film consultant during the second season and then remained, as supervising film producer, until season 22.
In her capacity, Zornow worked closely with many animators and filmmakers, including John and Faith Hubley, Paul Fierlinger (including the "Teeny Little Super Guy" series), and Michael Sporn. She was also executive producer of the 1977 documentary Sesame Street Goes to Prison.
As a Children's Television Workshop employee, Zornow filled the same function on The Electric Company and was involved in compilation screenings of Sesame shorts (such as at the Museum of Modern Art). She produced the public television series The Art of Film in the 1960s and was artistic director of Lincoln Center's "Movies for Kids" programs from the 1970s through the 1980s.
With Ruth Goldstein, Zornow co-wrote the books Movies for Kids: A Guide for Parents and Teachers on the Entertainment Film for Children 9 to 13 (1973) and The Screen Image of Youth: Movies About Children and Adolescents (1980).
Sources
Community content is available under
CC-BY-SA
unless otherwise noted.