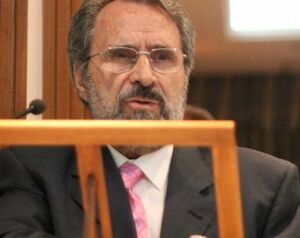 Eduardo Moreno (1925-2018) was a Spanish voice actor who dubbed Statler in the Castilian dubs of most Muppet projects.
A stage veteran, Moreno appeared on Spanish television, especially in the fifties and sixties, including the anthology Estudio 1. He also became an active voice actor starting in the sixties, notably dubbing the title character on ALF and its various spinoffs. He usually lent his voice to elderly actors or characters such as Walter Brennan, Billy Barty, Warwick Davis in the Harry Potter movies, Mickey Rooney in Erik the Viking, Harvey Korman in Dracula: Dead and Loving It, Gerard Parkes in Draw!, Robert Stephens in The Bonfire of the Vanities, Don Knotts in Big Bully, and Len Lesser as Uncle Leo on Seinfeld. He also dubbed Frank Oz in Spies Like Us.
For Disney, he dubbed Gopher in the Winnie the Pooh franchise, Scuttle in The Little Mermaid, Zummi on The Gummi Bears, Professor Porter in Tarzan, and Cookie in Atlantis: The Lost Empire. Other cartoon roles include Orko on He-Man and the Masters of the Universe, Alfred on Batman: The Animated Series and related projects, Grandpa on Rugrats, and Scooter on Challenge of the Go-Bots.
Muppet/Creature Shop dub credits
External links