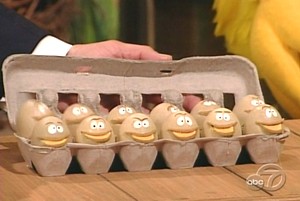 A carton of a dozen Muppet Eggs were honored on a Here is Your Life episode. Guy Smiley reunited them with their mother Stephanie Chicken, Corny the Corn (from whom Stephanie got her nourishment), Farmer Fowler (who planted Corny), and The Sun and Cloud (who both gave the corn life).
The same carton of eggs later appeared on Jeopardy! on April 4, 2006, when the Sesame Street cast appeared on the show to promote the Season 36 "Healthy Habits for Life" theme. The first round included a special category, "Sesame Street Eats". When players chose to answer questions in that category, they were shown a short clip of host Alex Trebek on the Sesame set, talking with the Muppets about healthy food.
The Eggs are very pleasant, and full of protein.
See also
Community content is available under
CC-BY-SA
unless otherwise noted.