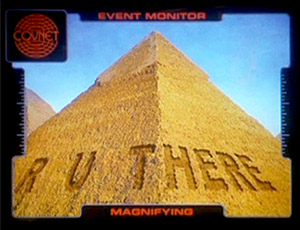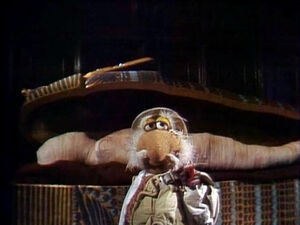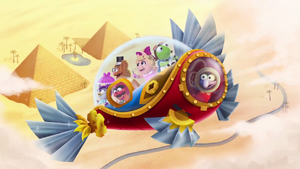 Egypt is a country on the continent of Africa, internationally famous for its pyramid structures, mythology, history, archeology and pharaohs, which have stood for thousands of years. Famous landmarks include the Sphinx and the Pyramids of Giza.
Cleopatra, an ancient Egyptian ruler, has long been romanticized as the Queen of the Nile, having been featured in countless works of art and literature.
Since 2000, Egypt's version of Sesame Street, Alam Simsim, has been in co-production with Sesame Workshop.
The Global Grover segment on Sesame Street has featured the country in which Grover and his camel feature a video about Egyptian farmlands. Ernie and Bert have also traveled to the country to explore its great pyramids. Their stay was short-lived, as Ernie was quickly spooked by a statue of himself. Their vacation was chronicled in the book Where's the Duckie?.
Characters in Muppet productions hailing from Egypt have included Cleopatra's servants in The Muppet Show episode 319 and the crocodile god Rezal-evad-gib, while Gonzo once dressed as an Egyptian mummy for a number in episode 516, Telly Monster was featured as "Telly Tut" on Sesame Street, and in episode 2687 Bob's brother, Minneapolis (Jeff Goldblum) tells the story of Queen Snuffertiti's quest to find the perfect favorite food for her Snuffle-subjects.
Perhaps the most prominently featured Egyptian-related story took place in Don't Eat the Pictures. While on a visit to the Metropolitan Museum of Art in New York City, Big Bird and Mr. Snuffleupagus encounter a young prince from ancient Egypt, who has been held prisoner for thousands of years within the confines of relics procured from the country. Ultimately, he is reunited with his parents after an encounter with figures from Egyptian mythology.

See also
Community content is available under
CC-BY-SA
unless otherwise noted.