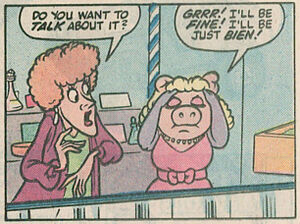 Eileen is Miss Piggy's department store co-worker in The Muppets Take Manhattan.
Assigned to the perfume and cosmetics counter, Eileen has been having trouble marketing "Quelle Difference" perfume, so she turns her attentions to a clearly distraught Miss Piggy. Hoping to cheer up her colleague, she gives her a make-over.
Eileen grows increasingly engrossed in this endeavor, adding make-up to her own face with each addition, and growing ever giddy, until manager Mr. Wrightson fires them both. This has little affect on the two, however; in fact, they find it hilarious.