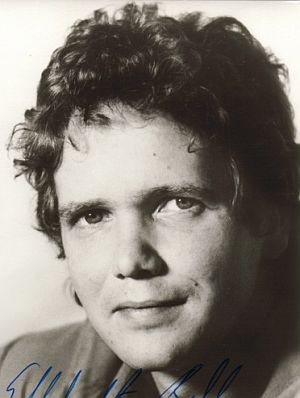 Ekkehardt Belle (b. 1954) is a German actor who voiced Nicky Holiday in Der Grosse Muppet Krimi (The Great Muppet Caper), Clifford on the German dub of Muppets Tonight, and Uncle Henry (and Clifford again) in The Muppets' Wizard of Oz.
Belle began his career as a child actor in Germany but made his film debut as an adult,in the 1972 US film Slaughterhouse-Five (with Richard Schaal) as a young German guard (named in the book as Gluck). In 1978, he starred as David Balfour in the miniseries adaptation of Robert Louis Stevenson's Kidnapped, a co-production with France and England.
As a dubbing actor, Belle is the primary German voice of Kevin Sorbo and Steven Seagall and spoke for the Sorting Hat in Harry Potter and the Sorcerer's Stone and other films in the franchise. He also dubbed John Candy in The Blues Brothers and others, Kevin Kline in Princess Caraboo, Ronald Reagan in Santa Fe Trail, Sam McMurray in National Lampoon's Christmas Vacation, Kevin Pollak in Indian Summer, Jim Broadbent in Art School Confidential, Richard Portnow in Sister Act, and Kiran Shah in The Chronicles of Narnia: The Lion, the Witch, and the Wardrobe.
Bell's TV dub credits include Michael Moriarty and the prologue announcer on Law & Order, Bill Bixby on The Incredible Hulk, Denis Leary on Rescue Me, and Alice Cooper on That '70s Show. In animation, he dubbed the title role on Captain N: The Game Master, the Hobgoblin on Spider-Man, Sarge in Cars, Git in Ratatouille, Negaduck on Darkwing Duck, and Evil the Cat on Earthworm Jim.
External links