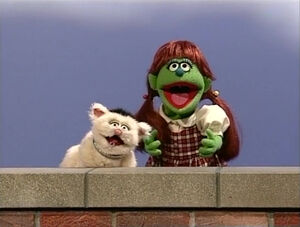 Elizabeth was a cheerful little girl from Sesame Street who appeared sporadically from Season 29 until Season 32.
Her first appearance was in the 29th season premiere, in which she came to Sesame Street to visit her best friend, Jerome. She later appeared in the season as one of Rosita's tea party guests in Episode 3706, and as a participant in the Triangle Lovers Club's tongue-twisting contest in Episode 3780 (where it is said she hails from Flatbush, Brooklyn). She made another appearance in the street plot of Episode 3831.
In Season 31, Elizabeth started appearing more frequently, having major roles in Episode 3852 and Episode 3877, with the former involving her pet cat Little Murray Sparkles gone missing, and the latter showcasing her fondness of bubbles. The two characters would also sometimes introduce segments through their own bumpers.
Outside of street stories, she appeared with Little Murray Sparkles via e-mail in Elmo's World: Pets, and also was seen in the songs "Everybody Be Yo'Self" and "Hold My Hand."
In an interview with Broadway.com, Stephanie D'Abruzzo described the character:
"I think that my favorite Sesame Street character that I played was a semi-recurring Muppet named Elizabeth, who appeared around seasons 29 to 32. She was a redheaded, pigtailed little girl with a loud, nasal Queens/Brooklyn accented voice who I loved because she was so unlike your typical little girl characters."
Community content is available under
CC-BY-SA
unless otherwise noted.