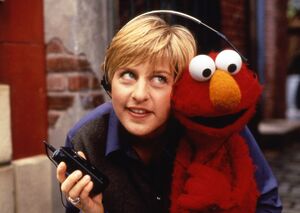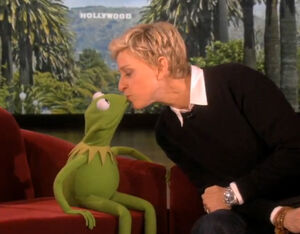 Ellen DeGeneres (b. 1958) is a stand-up comedienne, actress and television host. Her eponymous TV shows include the ABC sitcom Ellen and the long-running Ellen DeGeneres Show. Her best-known film role is the voice of Dory in Pixar's Finding Nemo, which she reprised in the sequel Finding Dory. She was also a judge for one season of American Idol.
DeGeneres appeared on Sesame Street in two inserts with Elmo during Season 27; one segment about the similarity of their names (First: Episode 3434), and another where they share a set of headphones playing "Put Down the Duckie," and dance together. (First: Episode 3448)
She appeared again in Episode 4140, presenting "ballet" as the Word of the Day on the set of her talk show.
DeGeneres has spun off several ventures including ellentube. She was the recipient of the Carol Burnett Award at the 2020 Golden Globes. An introductory video montage included clips from her latter Sesame Street appearance with Elmo, and a 2011 appearance by Kermit the Frog on her talk show.
References
In 2020, Cookie Monster tweeted to DeGeneres, "Uh hi @TheEllenShow! Me just want to say me available for phone call if you need cookie break. We can catch up on latest chocolate chippie news, and me spill all the Sesame tea. Me think you got me number in your contacts...".[1]
Sources
External links