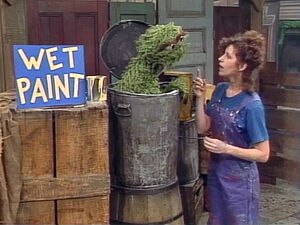 Ellen Greene (b. 1951) is an actor of stage and screen who started her career as a nightclub singer. Her most prominent role is that of Audrey in the 1986 film adaptation of Little Shop of Horrors directed by Frank Oz. She had previously established the role in the original 1982 off-Broadway production of the musical starring alongside her then-boyfriend[1] and co-star Martin P. Robinson (who performed the Audrey II puppet).
Greene appeared on Sesame Street in Episode 2071 as a sign painter. Having left the final brush stroke on a WET PAINT sign, she asks Oscar the Grouch to watch over it for her. While she's away, David comes by thinking it's one of Oscar's tricks, but he soon discovers the wet paint is on the sign itself (and now on him). Greene returns to a smudged sign, admonishes Oscar for letting her down, and leaves in a huff. Green also provided backing vocals for the song "You Say Hola and I Say Hola."[2]
Her other film work includes Oliver Stone's Talk Radio (with Alec Baldwin), Pump Up the Volume (with Ahmet Zappa), Naked Gun 33⅓: The Final Insult (with Leslie Nielsen), Léon: The Professional (with Natalie Portman), and One Fine Day (with Michelle Pfeiffer), with television work including Miami Vice, Law & Order, The X-Files, Pushing Daisies, Heroes, Batman: The Brave and the Bold, Hannibal, and The Walking Dead.
Sources