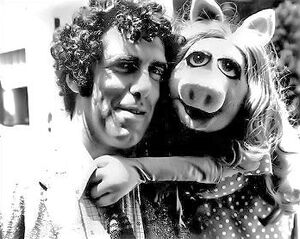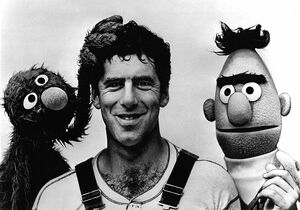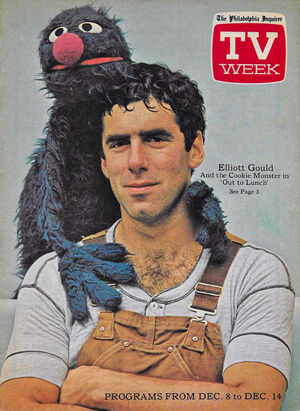 Elliott Gould (b. 1938) is a film actor who's best known for playing Trapper John in the Robert Altman film M*A*S*H, and for his roles in Bob & Carol & Ted & Alice and The Long Goodbye.
In 1979, Gould made a cameo appearance in The Muppet Movie as the show chairman of the Miss Bogen County Beauty Pageant, and he appeared in The Muppets Take Manhattan in 1984 as a cop.
Gould is one of only six actors to appear on-camera in more than one feature-length Muppet movie; the others are Jeffrey Tambor, David Arquette, Whoopi Goldberg, Ray Liotta, and Dan Payne.
Gould also appeared in ABC's 1974 primetime special Out to Lunch, which featured the casts of Sesame Street and The Electric Company.
On the March 19th, 2006 episode of the NPR news quiz Wait Wait... Don't Tell Me!, host Peter Sagal asked Gould: "In your long career... is there anything more obscure that you're particularly proud of, that you kind of wish more people knew about?" Gould replied, "I was working for Lew Grade, who was a producer in England, and he was doing The Muppet Movie, and I insisted that he put me in The Muppet Movie, because my kids just loved the Muppets, and I had worked with the Muppets on Saturday Night Live. So I introduce Miss Piggy in The Muppet Movie, as part of a beauty contest, the first time Kermit the Frog sees her. And my judges are Edgar Bergen and Charlie McCarthy. So that's something that pleases me." "As well it should," Sagal said, to a smattering of audience applause.
External links