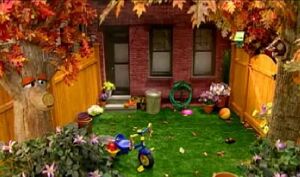 Elmo's Backyard is a proposed mini-series by Sesame Workshop, where Elmo was to explore the natural world in his backyard. Twenty-six, five minute episodes were intended to sell to international markets. Only a pilot episode was produced.
According to Sesame Workshop's description:
"Episodes are story-driven, each one quickly setting up an intriguing problem or mysterious nature question, which provides a dramatic arc to be resolved by the end of the episode. The driving force, however, is Elmo, who sees himself as the Indiana Jones of his own backyard, and finds fascinating adventures to investigate and explore. Sometimes Elmo's quests lead him to make discoveries, reach "scientific conclusions" and come to appreciate the wonders of the natural world.

Elmo's backyard not very big, but it contains a diverse natural world. In this backyard lives a stately old tree, Annie Oak. Elmo loves Miss Annie Oak and she is his guide on many of his nature adventures. The yard has a small vegetable patch; where we meet a talking zucchini who wants to be propped up, a daisy who needs to be watered, or a tomato with a song about being ripe for picking. Elmo's backyard is also crawling with animal life. An assortment of Muppet bugs, birds, and a nutty squirrel, these are Elmo's friends and partners in adventures. This urban setting shows that nature is everywhere, even in the heart of a big city! "
Characters
Annie Oak
"At 75 years old, the feisty, grandmotherly talking tree, has stood strong and firmly in her spot, watching the neighborhood around her grow and change around her. This has given her a lot of useful insight. Elmo often turns to Annie for advice as she has an encyclopedic knowledge of plant life and a seedling's enthusiastic spirit.


Annie loves to joke around and be silly, and will do things like hang bananas or coconuts from her limbs, pretending to be a different kind of tree ("I'm just feeling so… TROPICAL today!"). Beyond being a great storyteller, Annie is a constant source of shade and welcoming hospitality."
Ant
"A small insect with big shoulders. Ant plans, hauls, builds, wrecks, and rebuilds. Ant has moxie and heart, and is confident of succeeding at every task he undertakes. Ant can literally move mountains - well, anthills - but those are big mountains to a creature his size. Ant's grand projects don't leave him much time to join Elmo's adventures, but all Elmo has to do to get him involved, is make Ant feel that Elmo's quest is actually hard work. Ant may be tough talkin', but he's got a soft heart. He is always ready to lend Elmo, or any other backyard resident, a helping leg – and he's got six of them."
Squirrel
"True to her species, Squirrel is a squirrelly, hyper-active, creature, a bit scatter-brained, and often befuddled. Squirrel squirrels away her treasures in pockets throughout the yard. So, when Elmo can't find something, Squirrel is the first one he will go to ask about it. The problem is, that Squirrel hides things in so many places, she often can't remember where she put it. Squirrel wanders all over the neighborhood, and she often brings back interesting items, or curious tidbits of information."
This particular squirrel, renamed Knuspel, played a key role in the German co-production Sesamstrasse spin-off Eine Möhre für Zwei TV-movie Das Geheimnis der Blumenfabrik in 2013.
The same puppet appears in an Super Grover 2.0 segment in Season 42, episode 4277. Super Grover 2.0 helps the squirrel with a shelf to display his acorn.
See also
External links