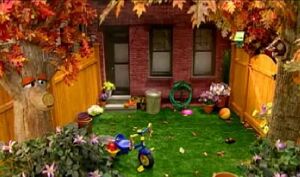 Elmo's Backyard is a proposed mini-series by Sesame Workshop, where Elmo was to explore the natural world in his backyard. Twenty-six, five minute episodes were intended to sell to international markets. Only a pilot episode was produced.
According to Sesame Workshop's description:
Characters
Annie Oak
Ant
Squirrel
This particular squirrel, renamed Knuspel, played a key role in the German co-production Sesamstrasse spin-off Eine Möhre für Zwei TV-movie Das Geheimnis der Blumenfabrik in 2013.
The same puppet appears in an Super Grover 2.0 segment in Season 42, episode 4277. Super Grover 2.0 helps the squirrel with a shelf to display his acorn.
See also
External links