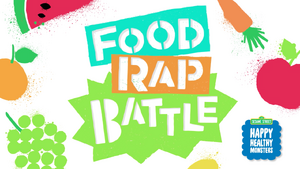 Elmo's Food Rap Battle is a Sesame Street video series that premiered on YouTube in February 2018.
In each video, Elmo can't decide what he should eat. This prompts a rap battle, hosted by DJ Lobster, as two foods (voiced by celebrity singers) musically duke it out and see which one Elmo will want to eat.
The videos were filmed at Sesame Workshop's in-house production facilities on January 9, 2018.[1] Muppet performers include Ryan Dillon, Tyler Bunch (DJ Lobster), Stephanie D'Abruzzo (Cereal puppeteer),[2] Carmen Osbahr (a jar of jam), Frankie Cordero[3] and Andrew Moriarty.[4] The two-dimensional kitchen set was designed by Jason Weber and built by James Wojtal.[5]
A series of animated "Fun in the Sun" rap battle videos followed in July 2020. In one video, DJ Lobster has trouble deciding whether to take a nature hike or have a barbecue on a nice sunny day. (YouTube) In another, Elmo and Abby Cadabby settle a debate between the sun and a rain cloud as to which is the better weather. (YouTube)
Videos
Sources