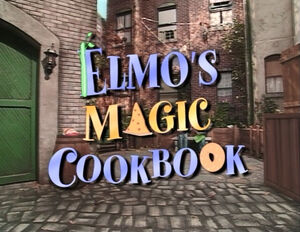 | | |
| --- | --- |
| Release Date | 2001 |
| Produced by | Sony Wonder |
| Format | VHS, DVD |
| ASIN | |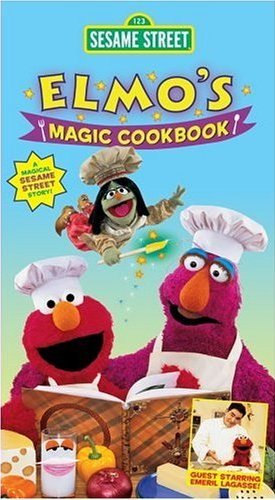 Elmo's Magic Cookbook is a 2001 Sesame Street direct-to-video special, focused on teaching kids how easy it is to cook. After its release, the video aired as a special on the Food Network on April 15, 2001.[1]
Elmo is exploring the attic of the carriage house with two kids and Telly. In the process, they discover a magic cookbook (which behaves like a CG puppy) and summon Jean the Genie. Though she grants food-based wishes, Jean can only materialize ingredients (and transport the cast to an undisclosed kitchen location). The group must cook the food themselves, which results in Telly spending most of the video churning ice cream. In keeping with tradition, the ingredients are sentient Muppets, who crack one-liners but express no concern over their eventual consumption by a furry red monster, but do demand recognition.
To provide the appropriate adult supervision and assistance, Jean summons Alan (who shows them how to arrange food into animals or objects) and Emeril Lagasse (to make pizza). Finally, Jean summons the Pocket Queen (Heather Headley) who explains the concept of food pockets and shows him how to make Vietnamese summer rolls. The group finally enjoys their ice cream (and a last minute cameo by Cookie Monster), while the end credits feature food constructed caricatures of the Sesame Street Muppets.
The video was included on the DVD, C is for Cooking, as a bonus feature.
The video was promoted by a guest appearance by Elmo on Cooking Live.
Inserts
Other releases
Cast
Starring The Muppets of Sesame Street:
Credits
Sources
↑ The Cincinnati Enquirer, May 4, 2001.