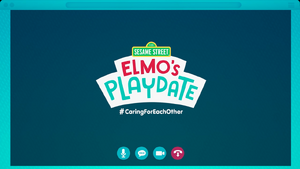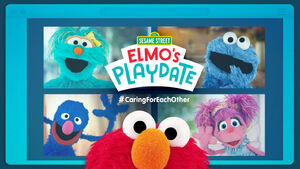 Elmo's Playdate is a simulcast Sesame Street primetime special airing on April 14, 2020. The special was televised on PBS stations and the WarnerMedia networks HBO, TNT, TBS, Cartoon Network, Boomerang, and truTV. The special also appeared on HBO's on-demand and streaming services, and was released on HBO Max at launch.[1] The special is also available on the PBS Kids streaming service.
An extension of the Caring for Each Other initiative, launched in March in response to the coronavirus pandemic, the half-hour special features Elmo and his Sesame Street friends having a virtual playdate. Anne Hathaway, Lin-Manuel Miranda, and Tracee Ellis Ross guest star. The special also features an edited version of Taye Diggs' cover of "Let's Go Driving." When aired on PBS, this outro was shown after the credits: Cookie Monster recites a poem about being kind, and demonstrates kindness by sharing a cookie with Rosita and a boy.
Elmo's Playdate: Scavenger Hunt, a follow-up special, premiered in August 2020.
Cast
Special Guest Stars
Anne Hathaway, Lin-Manuel Miranda, Tracee Ellis Ross
Insert Guest Star
Taye Diggs
Sesame Street Muppet Performers
Muppets
Songs
Credits
Executive Producers: Melissa Dino, Benjamin Lehmann, Jodi Nussbaum, Ken Scarborough
Coordinating Producer: Mindy Fila
Senior Producers: Karyn Leibovich and Stephanie Longardo
Co-Producer: Matt Vogel
Directed by Matt Vogel
Insert Director: Lisa Simon
Insert Associate Director: Ken Diego
Head Writer: Ken Scarborough
Insert Writer: Joseph Mazzarino
Senior Vice President of Curriculum & Content: Rosemarie T. Truglio, Ph.D.
Content Producer: Autumn T. Zitani Stefano, M.A.
Audio Editor: Paul Rudolph
Music Director: Bill Sherman
Music Director (Vocals): Paul Rudolph
Composers: Joe Raposo and Bill Sherman
Insert Composer / Lyricist: Jeff Moss
Special Thanks to The Jim Henson Company NY Creature Shop, Sandblast Productions, Matt Birkenholz, Michael Cargill, Taska Carrigan, Erica Carter, Annie Evans, Yonette George, Marca Leigh, Bridget Miles, Alexander Poulter, Phoebe Rudman, Noah Rudman, Craig Shemin, Jack Vogel, Kelly Vogel, Hunter Vogel
Sources
External links
Community content is available under
CC-BY-SA
unless otherwise noted.